Well I'm new but I do a lot of cross stitchinc, which isnt exactly sewing but then I usually put my cross stitch on pillows...or at least I have been trying to sew them on a pillow. I do most of that sort of stitching by hand. I have made 4 pillows already by hand. But for some reason this one is just seeming to take forever. I really have no motivation for it. Sometimes I do but I am usually about to go to work or am busy with schoolwork.
Here are the ones I have already made.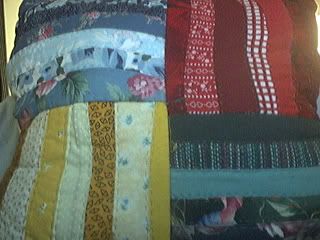 And this is the cross stitch that I am making into a pillow. I already have the front done but the back is what is holding me up. I want to put lace in between the front and back. I think it will be gorgeous...when ever I can get the motivation.